Down the memory lane..
Summer vacation is the time when me and my brother would meet our Aunts and cousins. Though their house is not very far from our place, we stay at their place for few days or sometimes few weeks..
Summer means mango season. These Days, we rarely find a Mango tree in any backyard of a house. We have a short mango tree in front of our house. The raw mango is not sour and once it is ripen, it tastes almost like an Alphonso.
But the tree which i am mentioning is the taller ones..The mangoes on these tall trees are small..There were several varieties of trees in the back yards of my aunt's house. Workers used to pluck them and get big sacks of mangoes.. Some will be sold, some will be distributed among neighbors and relatives. Rest will be kept to ripe.
Once it is ripen we cousins would sit around one of the sacks. And eat the mangoes one by one. We never peeled or cut the mango with knife. We used to go wild. We would pick each mango and use our teeth to peel the skin and enjoy the flesh and juice. Juices would be dripping and sliding down our hands. And without any embarrassment we would just lick and enjoy every bit of it..
Some variety of mangoes are juicier. We would take those mangoes, keep in between our palm and roll for some times to make the skin soft. Then we would bite the top of the mango, Suck the juice and pulp.
We would keep on eating mango like this and it would go on and on…
Something which always stuck in my mind was Aam papad which my cousins used to bring when they would come down for vacation from Bombay(Mumbai). This fruity sheets taste so yum.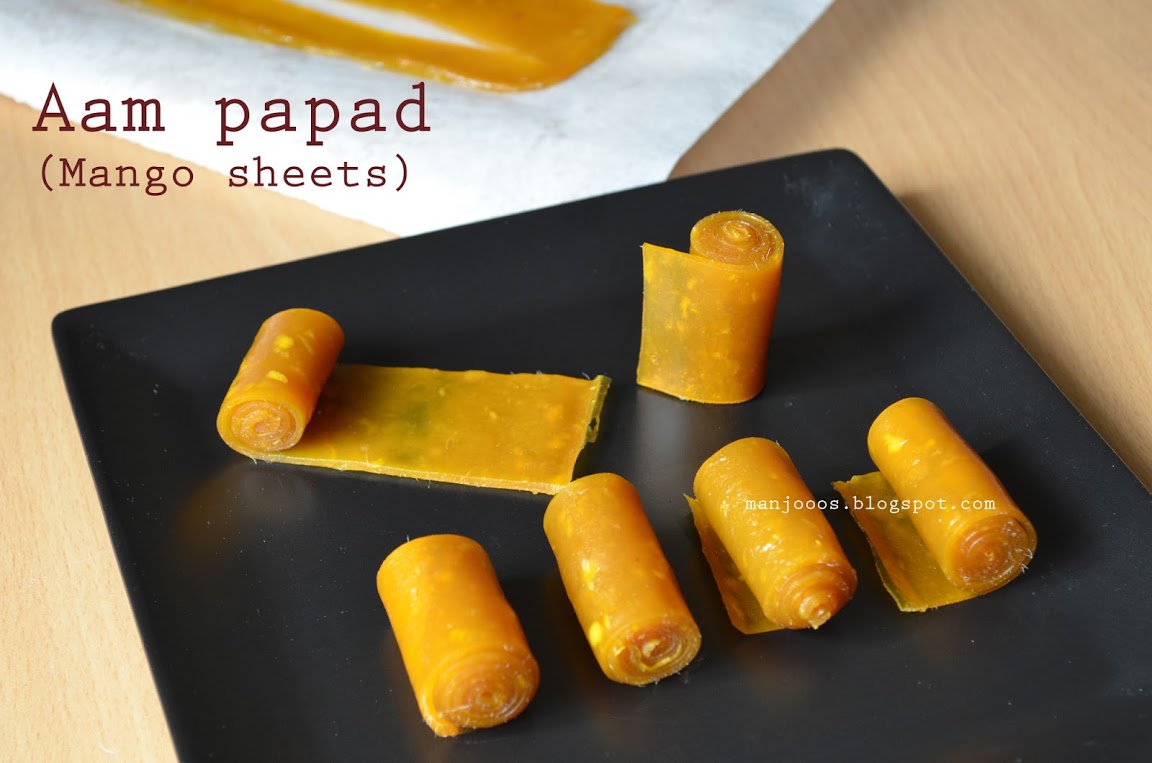 Mangathira is something similar prepared in Kerala during summer. But I never knew about it till one of my friends told about it few days back.
When I got 2 ripe mangoes , I decided to make fruit roll as the climate was in my favor.
Ripe Mangoes – 2 big
Sugar – to taste (use if the mango is not as sweet as you need)
Lemon juice – to add a small squeeze to add a slight sourness
You have to,
Skin, peel and cut the mangoes into cubes. Discard seed.
Add sugar, lemon juice and blend it to a smooth paste.
Now in a bottom thick pan, heat this pulp in medium flame
Stir well and heat this for 10 to 15 minutes. Don't burn it.
Line a flat tray with a parchment or butter paper.
Spread a very thin coat of ghee on the paper.
Now add the mango pulp and spread evenly.
Keep this tray in any of the rooms where you get proper sunlight for 3-4 days.
I kept it for 3 days and it was set. If you keep in direct sunlight, the case will be different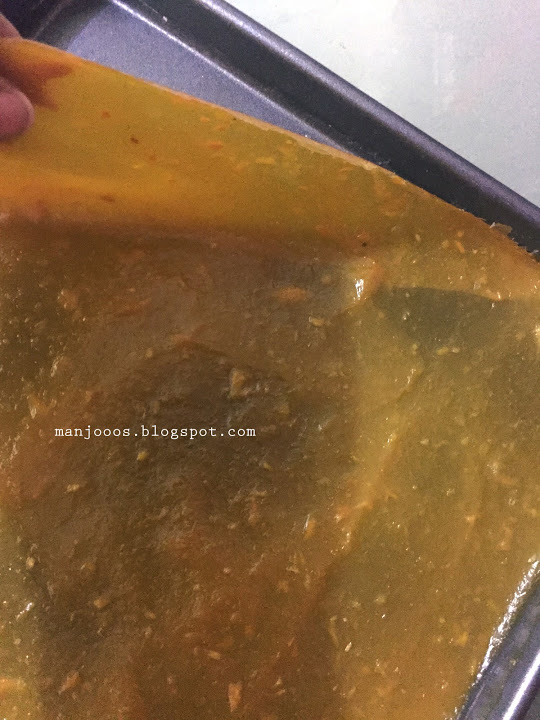 I flipped it and left it for another day.
And then cut it into thin strips and rolled and kept.
If at any chance you have some left overs (this will never happen), cover well in a butter paper and refrigerate.
Fruit leather is the best way to storing the fruit flavor of the season. This was my first attempt of making it . But I decided to keep trying it with different fruits…
To make it hot, you could add a pinch of red chili powder or pepper powder while cooking the pulp…
This tastes exactly like aam papad. Aam papad is more thicker. My recipe is not the exact way of preparing it..
Fruit rolls can be prepared quicker by drying it in dehydrator or cooking in oven. But I found this way of preparing fruit rolls better as We could save some energy 🙂
Happy Summer!!!