When I hear "Spinach" the character comes in my mind is Popeye who gets the skills and energy by consuming spinach. This sailor man eats the spinach through his pipe or gulps the entire content into his mouth from the can.
Well I am not sure whether he eat it raw, blanched or spiced.. LOL…That is just a cartoon story…
Spinach is one my favorite vegetable. Fresh spinach in supermarket always attract me and I grab 2 or 3 bunches. Most of the time I prefer to make thepla.
This recipe is a bit easy version.
You need
Spinach leaves – 2 cup  (discard stems) clean, washed and chopped
Indian Cottage cheese (Paneer) cubes – ½ cup
Onion, finely chopped – 1 medium
Tomato – 2 medium, chopped
Ginger – 1/2 inch piece chopped
Garlic – 2 clove chopped
Green Chilies – 3 nos
Cumin Seeds -1 teaspoon
Turmeric Powder -½ teaspoon
Red Chili Powder-½ teaspoon
Garam Masala – ½ teaspoon
Refined Oil – 1 tbsp
Salt to taste
You have to
Boil 4 water in a sauce pan in medium flame
Add the spinach leaves and blanch for 2-3 minutes. Don't close the pan.
Strain and wash leaves under cold water.
Discard the water and switch off the flame
Grind the leaves into a smooth puree in a grinder jar..
Transfer this to a bowl and keep aside..
Add tomato , ginger, garlic and green chilies to the jar.
Grind this to a smooth paste
Transfer this to another bowl
Heat oil in a pan  in medium to low flame and add cumin seeds and allow to crackle
Add onion  and saute till it turn translucent
Now add turmeric, red chili powder. Saute for few more seconds till the raw smell disappears
Add tomato puree and stir.
Allow the tomatoes to cook well. The gravy will dry up and you could see oil oozing out..
Add spinach puree & salt. Stir well.
Add the paneer cubes and garam masala.
Let the gravy boil and cook for another 2 more minutes.
Garnish few drops of cream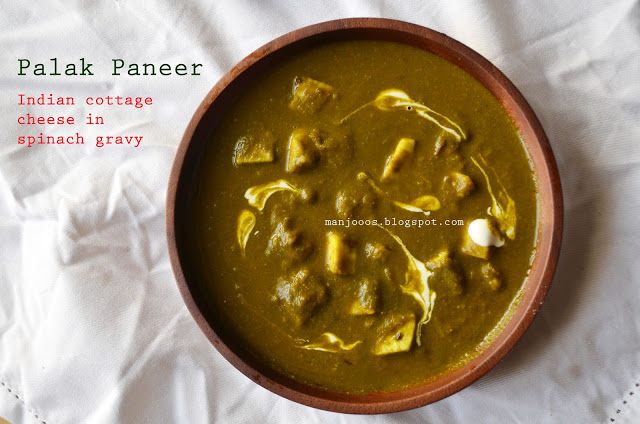 This goes well with parathas or roti (phulka) or rice
Notes:
You need to wash the spinach leaves very well
If your are using frozen paneer. Allow it to thaw