The original galouti kebab is a dish from Lucknow, which is made of meat. After mixing with herbs and spices, the very finely ground meat is shaped into patties and fried in pure ghee until it is browned. Galouti or Galawati means mouth melting.
Google says this Kebab was created for the aging Nawab of Lucknow, Wajid Ali Shah, who lost his teeth but not his passion for Meat!!
And I doubt any can make out it is a vegetarian version which is made out of Rajma. I saw this in FoodFood channel few days back. It is super yum and moist vegetarian kebab.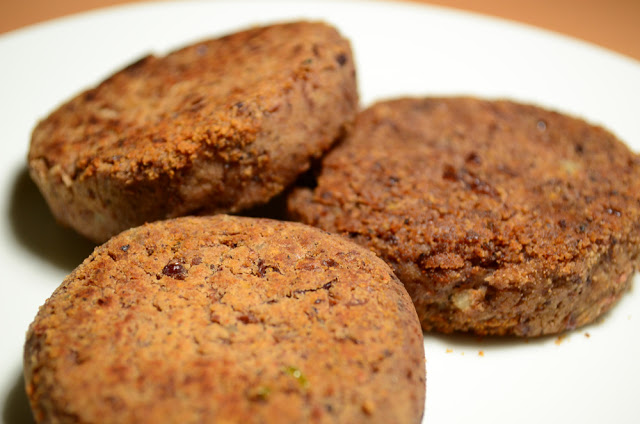 You need,
1. Red kidney beans or rajma – 1 cup , soaked, boiled, strained and mashed
(refer notes)
3. Cinnamon – 2 inch stick
5. Caraway seeds – 1/4 tsp
7. Poppy seeds or khuskhus – 1/2 tsp
9. Red chili powder
–
1/2 teaspoon
11. Green chilli – 2
12. Salt to taste
13. Oil to shallow fry
You have to
1. Dry roast cloves, cinnamon, black cardamom, caraway seeds, green cardamoms and poppy seeds in a non-stick pan till fragrant.
2. Add in cashew nuts and roast till they brown.
3. Add to a mixer jar, cool and grind to a powder. keep aside closed
4. Transfer cooked rajma to the mixer jar and grind it along with green chili to soft
5. Mix together rajma, red chili powder, salt and ground masala.
6. Divide the mixture into equal portions with damp hands and shape into tikkis.(I could make 8)
7. Heat oil in a non-stick pan and shallow fry the tikkis, turning sides once, till both sides are equally done.
Serve with a mint chutney or a raita
Notes:
1. Wash and soak the red kidney beans for at least 8 hours. Then transfer to a cooker and add a pinch of hing and water enough to cover the beans and pressure cook for 5 whistles. Once the pressure is gone. Open and check if the rajma is cooked enough. i.e, if you press one bean with your finger, it will mash smoothly. if it is not done, continue cooking for another 3-4 whistles. Once done. strain and used for grinding
2. I made this recipe 2 times. 2nd time i skipped 3 ingredients as it wasn't available. Caraway seeds, black cardamom and poppy seeds. Still it tasted well
3. You could add finely crumbled Paneer (Indian cottage cheese) at step 5. This will make this kebab more soft and moist