I like to have fish fry with white rice,
chutney
and curd 🙂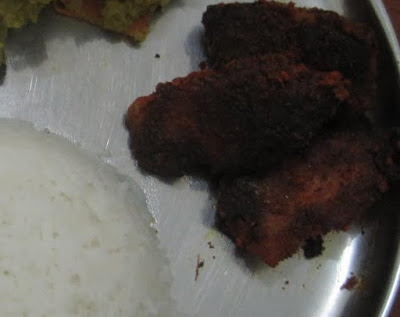 You need,
1. Boneless King Fish – 250 gm washed cleaned and cubed/sliced
2. Chilli Powder – 1 tsp
3. Freshly grounded pepper powder – 1/2 tsp
4. Turmeric Powder – 1/4 tsp
5. Salt to taste ( 1/4 to 1/2 tsp )
6. Oil – as needed to fry
7. Cornflour – 1/2 tsp
You have to,
1. Mix together the chilli powder, Pepper powder, turmeric powder, cornflour and salt in a bowl.
2. Add the fish pieces. Mix well with your hands and keep aside covered for a minimum of 30 min.
4.Shallow fry this fish with very little oil or deep fry with more oil.
Note:
1. Sprinkle few drops of lemon juice on top of the fried fish just before serving.
2. You could leave the marinated fish pieces in freezer. When ever required, thaw it and fry.