Goodness in disguise..On a busy working day morning I realized there is no enough ingredients to prepare thalipeeth. The previous night I went to sleep dreaming of a delicious thalipeeth which I am going to prepare using zucchini which I bought from the
Organic farm
 in Qatar. I was lost when I found there is no rice and chickpea flour at home. Then I found half packet of beaten rice, which actually saved me.
I decided to alter the recipe and the verdict was soft and tasty zucchini poha. Poha is a snack or breakfast made with beaten rice. I have posted a recipe before. You could find the recipe here 
This recipe serves 3 to 4 persons
You need,
Marrow zucchini grated – 1.5 cup ( Don't discard the juices)
Beaten rice (White or Red) – 4 cups , powder it in a grinder
Curd/Yogurt – 1/4 cup
Sesame seeds – 1 tbsp
Green chili – 1, finely chopped
Turmeric – 1/2 teaspoon
Coriander leaves  – 3 tbsp, chopped roughly
Salt to taste
For tempering
Onion – 1 medium, finely chopped
Refined oil – 1 tbsp
Dry red chili – 1, broken into 2 pieces
You have to
Take a large deep bowl
Add all the ingredients except the ingredients mentioned under tempering.
Mix mixture well for a while using your fingers (You could use a spoon as well) till it is blended well. You may not require to add any water as the curd and zucchini juice will help.
This pic was clicked before adding turmeric
Heat oil in heavy bottom pan in medium flame to high flame.
Add the red chili, onion and saute till it the onion turn translucent
Add the zucchini and beaten rice mixture to the pan.
Stir fry till the whole mixture is heated well. 3-4 minutes maximum
Remove from flame and serve hot or warm or in room temperature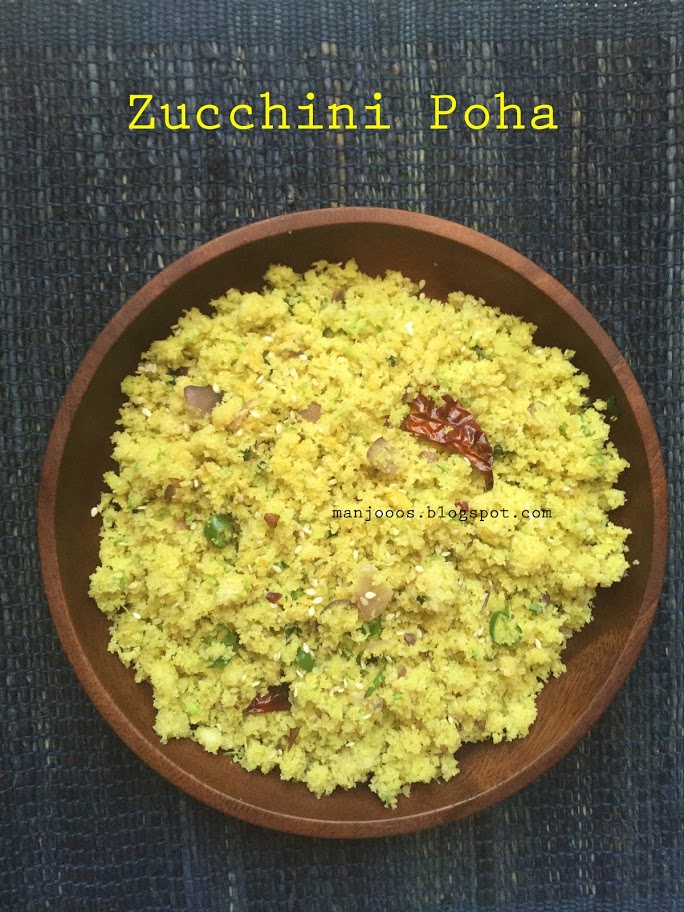 Notes
You could replace the sesame seeds with 1/4 cup peanuts. But use while frying the onions.