It is Christmas season.. I have made few batches of tiny fruit cakes.. As all of them went out like hot cakes, I had to soak another batch of dry fruits. Unfortunately I couldn't find candied ginger in the store. I was surprised at the same time worried. Rang up couple of grocery stores and all went unattended. Strange….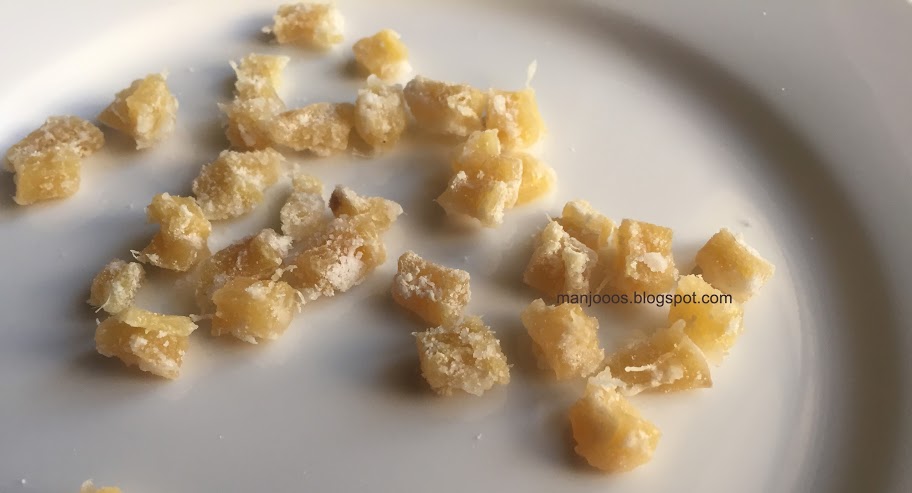 But I can't wait for another day. And later I end up making these. Though I was not very positive about the result, at the end I was extremely happy. It tasted same as the store bought ones.
Let me share the recipe…
You need,
Fresh ginger root, peeled and chopped in tiny cubes – 1 cup
Water – 1.5 cup
Sugar – 1/2 cup
You have to,
Boil water in a sauce pan in medium heat
Add the ginger cubes and cook for 20 minutes
Drain the ginger cubes in a colander.
Don't discard the water. Transfer 1/4 cup of this water back to the sauce pan
Add sugar and ginger cubes to the same sauce pan.
Heat the pan again in medium to high flame for 15 – 20 minutes.
Towards end the sugar will boil vigourously and it will start to look dry.
Using a slopped spoon drain the ginger and spread in waxed paper or a silicon mat.
Spread the ginger cubes immediately to seperate the pieces .
(If there is left over sugar syrup, using a spoon pour small drops on the wax paper. This can be used for your tea to give a ginger flavor)
Allow the ginger cubes to cool down and then transfer it to an airtight container.
I have decided that for the next season, I will make the candied ginger at home..
Recipe inspiration : Food Network