This recipe is something which I have heard a lot from my bengaluru friends especially R. She prepares it very well I wasn't fortunate to taste it at least once. I did some google and found the recipe from Wikipedia.
Raagi Mudde, is the staple food in Karnataka (a southern state of India). They normally serve Mudde with a gravy (saaru). A leafy vegetable gravy or a non-veg gravy. I was told by my friend that it tastes good with a mutton curry. So I prepared this with a mutton curry..
You need
Ragi (Raagi) /Finger millet flour – 1 cup
Desi Ghee/ Oil – 2 tsp
Salt to taste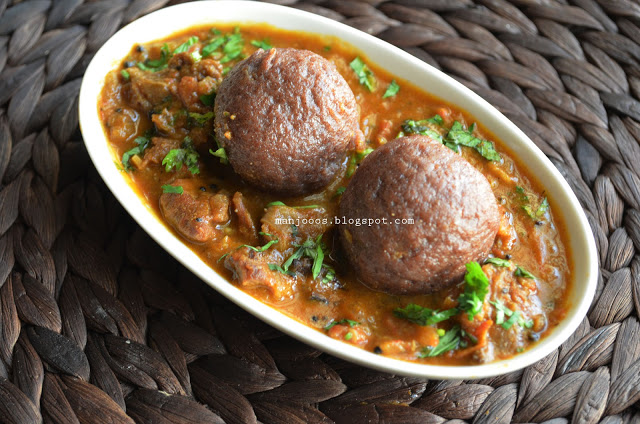 You have to
Mix 1 tbsp of finger millet flour in 1.5 cups of water
Add 2 tsp oil and salt to the mixture.
Heat the mixture in a bottom thick pan and bring it to boil.
Add the rest of the finger millet flour flour, stirring continuously so that no lumps are formed.
Close and cook on low heat for about 1-2 mins.
Remove from stove leave it closed for another 5 minutes
Wet your hands and make finger millet flour balls of desired size and shape you like while it is still hot.
Serve with veg or non veg gravy.
The raagi balls are very soft that it will melt in your mouth. This is healthy 🙂
Happy Cooking!!!