Have you heard about "dahi shakkar". "Dahi Shakkar" ( Yogurt & Curd) is given to a person when he is leaving home for an important task. This is considered to be very auspicious. This ritual is followed in North India. Scientifically curd is an excellent coolant and sugar an instant energizer.
As a child, without any reason my mom gives me small bowl of curd whisked with sugar. And I like to eat it as well. Curd is something I always liked to eat, it doesn't matter which form it is in. And one of my favorite way of eating curd is "dahi shakkar" .
During summer, my mom prepares something refreshing using curd. It is called sambharam (pacha moru or morum vellam). Sambharam is nothing but spiced butter milk. Traditionally buttermilk is collected after churning cream/butter. But we could make it instantly using curd. Thick Curd is beaten well with salt and equal or double amount of water. Shallots, green chilies, ginger and curry leaves are crushed in the stone grinder or mortar pestle. And it is mixed well along with the curd mixture. Sambharam is served towards the end of the meal or consumed as it is. Sambharam holds an important position in a traditional vegetarian feast. In North India, the spiced version of butter milk is known as chaas.
Sweetened version of buttermilk (Lassi) is hardly used in South India. The basic version of Lassi has just curd, sugar and water. And it can be flavored with with cardamom or pistachios or almonds..
What I made is the mango version of lassi. This version is very popular in India. And it is very easy to prepare as well.
This recipe serves two persons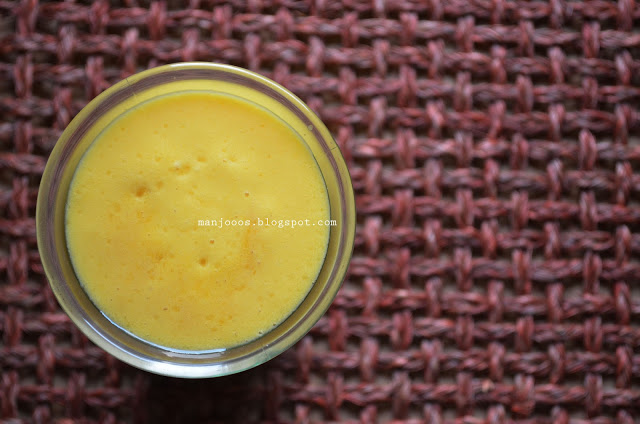 Ripe Mango – 1 no
Low fat Yogurt – 500 ml
Sugar – 2 teaspoon
Wash and remove the skin of the mango. Cut the mango into cubes and discard the seed.
Combine the mango cubes, sugar and yogurt
Blend this well to a smooth puree
Pour this in tall glass and serve. Else chill till you serve
Notes
If fresh mango is not available, please replace with 1 cup of frozen or canned mango pulp.
You could add some ice cubes while blending. Else freeze the mango cubes for a while and then use for blending
If you feel the lassi is very thick you could dilute by adding cold water or milk
Lassi in a jiffy!!!