I gently pushed the shopping cart and walked slowly looking at the packets and jars kept on each rack at the super market. Except the cold storage area (I cant tolerate the over chill zone) I like to enjoy my stroll every where in the shopping market.
I love anything which comes in glass jars. I always prefer to pick up the glass jar to packet. Once bought I keep waiting for the jar to get over, so that I could clean and fill some of the spices or lentils. I love to see all the glass jars lined up on my kitchen shelf. In the past few years I am trying to avoid buying anything which comes in a plastic jar. We all know the advantages of plastic jars, but when it comes to it's durability I don't like them. And with time, the bottle starts to look ugly and kinda sticky, especially if you are staying in humid region.
Glass jars are the best!! We can clean and use several times. No hassles about the odor too..
Well, this particular bottle I got from supermarket. I was happy when I saw the Starbucks lattes in glass bottles. I hardly drink coffee. But just for that bottle, I bought the coffee. This is not the story of a glass bottle. But the moment I saw that bottle, I got the idea to use this bottle to drink juice or smoothie at home. Just to feel different.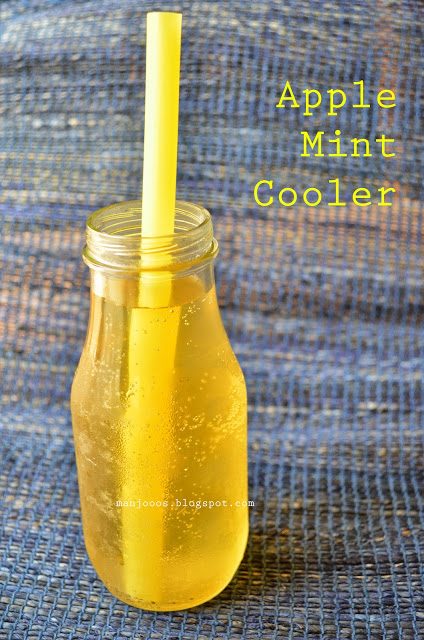 And I could use it as a prop for any of my recipe as I have used this before for my granola recipe (Check this link)
This recipe is completely inspired by Giada De Laurentiis. I liked her idea of infusing green tea and other juices. This refreshing fizzy summer drink is good for any summer party.
This recipe serves approx 6 unless a single person wish to drink it more
You need,
Water – 2 cups
Green tea bags – 4 (plain flavor)
Apple juice – 1.5 cups ( If you get fresh natural apple juice, that is the best)
Freshly squeezed lemon juice – 1/4 cup
Mint syrup – 1 cup (recipe is below)
1/4 cup fresh lemon juice (from 1 large lemon)
Sparkling water(Soda water) – 1 cup chilled
For the Mint Simple Syrup:
water – 1 cup
sugar – 1/2 cup
Fresh mint leaves, cleaned and washed – 1 cup packed
You have to,
Step 1 : Make Green Tea
Boil Water in sauce pan
Turn off heat and add tea bags
Allow to steep for 6 minutes and then remove the tea bags
Let it cool down to room temperature
Step 2: Make Mint syrup
Boil Water and sugar in a sauce pan
Stir occasionally till the sugar dissolves
Remove from flame and add the fresh mint leaves. All the leaves should be soaked
Allow to cool down completely.
Strain and discard the residue (leaves)
Infusing syrups
Once the above 2 has cooled down to the room temperature, pour the green tea, apple juice, lemon juice and mint syrup in a large jar
Refrigerate this until it is ready to serve
Before serving add the sparkling water to the jar.
Pour it in individual glasses. You could serve on rocks as well
Garnish with mint leaves or lemon wedges.
Or just pour it in a bottle, put a straw, sit back, sip and enjoy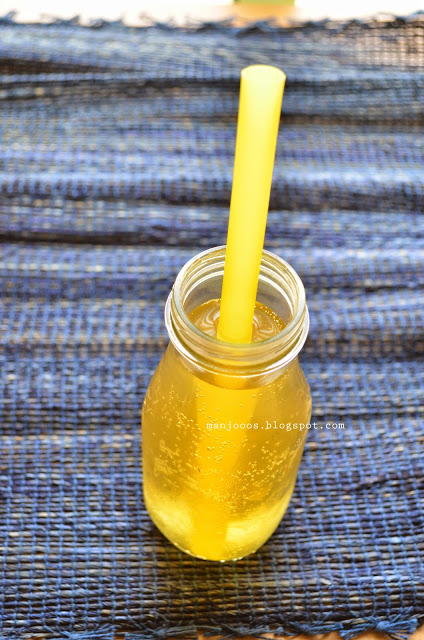 Enjoy summer!!!