I started loving pesto after my visit to Lavonne cafe in Banaglore. I like the vegetable sandwich there..That is the inspiration behind making this sandwich at home..
For pesto you need,
Fresh basil leaves – 1 cup
Toasted pine nuts – 3 tbsp
Garlic cloves – 1 big clove
Salt – 1/4 teaspoon
Green chilies – 2
Olive oil – approx 1/4 cup
Grated Parmesan – 3 tbsp
For sandwich you need
Eggplant – 1 medium
zucchini – 1 medium
Red onion – 1
Salt and black pepper
Olive oil – approx 3 tbsp
Baguette bread – 1 (I cut them in 3 pieces)
Mozzarella – 1/2 cup (Or use a combination of Mozzarella & Cheddar cheese) If you have fresh well and good..
To have prepare pesto you need to
Pulse the basil, pine nuts, green chili, garlic and salt in a blender/grinder into fine paste.
While the blender running, add the olive oil gradually to form a smooth and thick consistency. It smelled heaven
Now transfer into a bowl and cheese.
Check the salt and add more for your taste
Now transfer this in a jar or bottle
Close well and refrigerate.
Try to use in 2 days
You have to,
Heat a grill pan over medium-high heat.
Cut eggplant and zucchini crosswise into thick slices
Cut Onions into thick round slices
Sprinkle salt and pepper over the eggplant, zucchini, and onion slices
In batches, drizzle oil and grill the eggplant, zucchini, and onions until they are cooked.
Allow to cool down a bit
Slice the baguette then into 3 pieces.
Spread both sides of the bread generously with pesto.
Stack slices of eggplant, zucchini and onion
Top with cheese.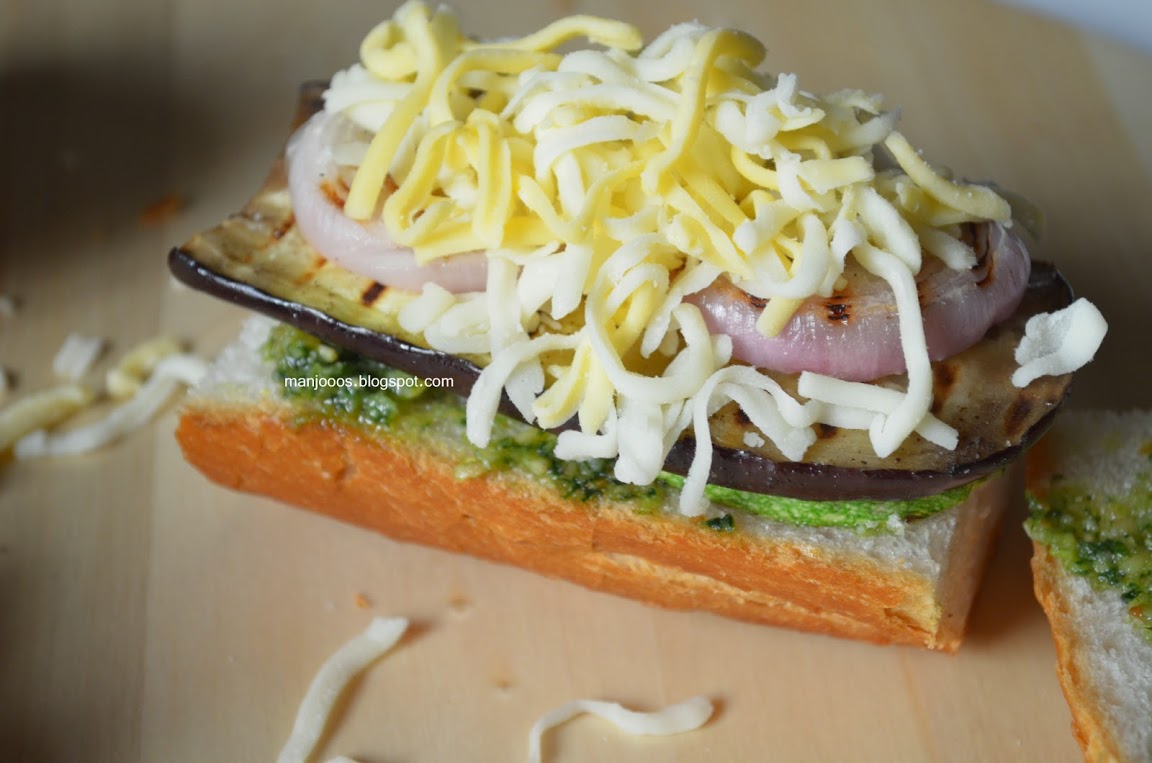 Place top half of baguette on top of the cheese
Repeat the same with remaining baguette.
Grill the sandwiches in pan or oven (the cheese will melt)
Enjoy 🙂
Notes:
You could use the normal bread
You can replace basil leaves with coriander leaves