I am in love with this dessert..If I have tried to make a dessert several times, then that is only Tiramisu.. I have made other versions before. (
Exp 1
,
Exp 2
,
Exp 3)
This recipe is heavily inspired from Nigella's. If you want to make a chilled dessert overnight, then go for this. I am using honey to give a healthy twist and it is still delicious
You need
Savoiardi biscuits or sponge fingers – 30 nos
For cream
Mascarpone cheese – 250 grams
Whipping cream – 200 ml
Honey – 5 tbsp (Original recipe says 1 cup of sugar)
Vanilla essence – 1 teaspoon
For dipping syrup
milk – 150 ml
cocoa powder – 1 tbsp
instant coffee – 1 tbsp (preferably expresso)
vanilla essence – 1 teaspoon
For dusting
Generous amount of cocoa powder for dusting
You have to
Step 1
Keep the whipping cream in a bowl in the refrigerator to chill…at least 30 minutes
Beat mascarpone with 2 tbsp of honey till creamy.
Take out the whipping cream bowl from the refrigerator and whisk whipping cream with remaining honey till stiff peaks formed
Then pour it into mascarpone bowl.
Add vanilla essence and mix them just till combined (don't over mix)
Step 2
Mix all ingredients in a bowl which is mentioned under dipping syrup. Keep aside
Step 3
You use a rectangular dish of at least 9X9 inch. I some time use tall or small glasses. SO that it will make easy to serve. You can check my previous recipes (Links are on top of this page)
Now dip the biscuits in the syrup, one by one and place them in the dish
Dust some cocoa powder on top of the biscuits
Pour 1/2 of the cream on the biscuits. and spread gently to reach all corners.
For 2nd layer, repeat the dipping process and finish up all the balance of the cream.
Dust the top with cocoa powder as you like
Refrigerate overnight.
Serve chill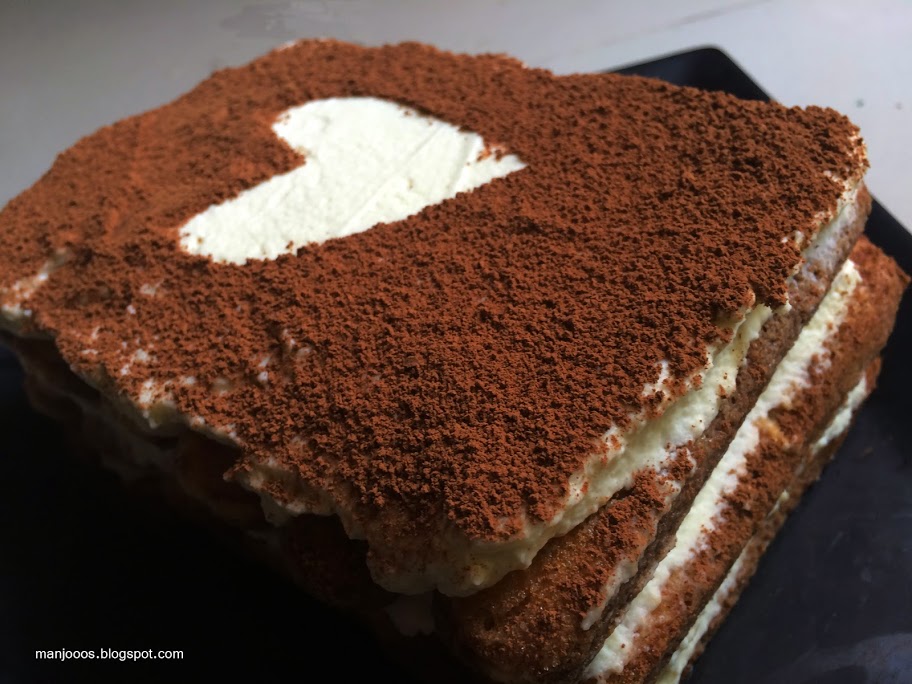 Notes
You could use cream cheese instead of mascarpone
I prepared tiramisu in 2 portions. One is a plate as you see above and other in a box. You can increase the layer depending upon the presentation.