Late to post this…
Karthika, the festival of lights, is celebrated on the Karthika(a star) of Vrikchika month of Malayalam calender(this falls normally on 2nd half of Nov or first half of Dec). And this is traditional dish which we prepare during the festival. We have them along with tender coconut water.
This is prepared with all the available tubers we cultivate in our fields. We use dioscorea(kachil), sweet potato, tapioca, coloccasia(chembu) etc.
Puzhukku is prepared in different manner in different parts of kerala. Ours is a simple recipe.
I could manage to get one large dioscorea and 1 large sweet potato
You have to

1. Skin the tubers.
2. Wash and cut into medium pieces.
3. Boil water in a large wok to accomadate the tubers
4. Add the hard tubers(I added dioscorea first)
5. Add the sweet potato when the dioscorea  is half cooked
6. Once it is almost cooked add salt to taste
7. Allow to boil for a minute or two ,drain the tubers and transfer into serving tray.
Kanthari Milaku Ulli Chammandi
1. Bird's eye chilies(Kanthari Mulaku) or Green chiles – 10 (slice or chop so that it will be easy to crush)
2. Shallots or Pearl Onion  – 15 (slice or chop so that it will be easy to crush)
3. Coconut oil – 2 tbsp
4. salt to taste
You have to
1. Crush the green chilies and pearl onion  in a motor and pestle
2. Transfer to a bowl and add salt and coconut oil and combine well .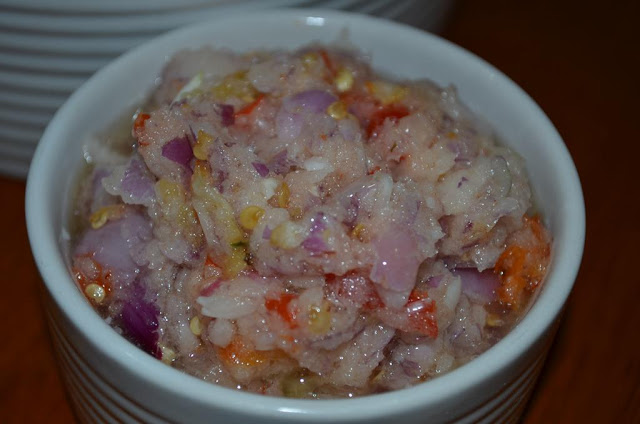 Now serve the chammandi with puzhukku..
Best combination is boiled tapioca and this chammandi..yumm..