My recipe wont reach near my Mumma's recipe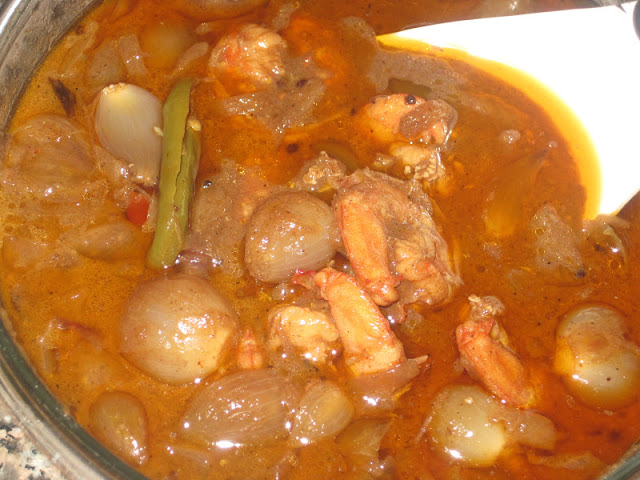 You need,
Shrimps/Prawns – 1.5 to 2 cups
Onion – 1 medium sliced
Shallots/ pearl onions – 10 to 15 numbers
Green chillies- 2 slit
Tomato – 1 large cubed
Salt – To taste
Coconut/ Refined oil – As required
Mustard Seeds – 1 tsp
Curry leaves of 1 string
To roast and grind
Grated coconut – Around 1.5 cup
Turmeric powder – 1/4 tsp
Coriander powder – 3 tsp
Chilly powder – 2.5 tsp
Curry leaves – of 2 strings
Valan puli/Tamarind – 1 tbsp seeded
sauf – 1 tsp
Ginger – 1 tsp chopped

You have to,
1. shell, clean, devien wash and drain the prawns/shrimps and keep aside
2. Heat a pan and dry roast the grated coconut until they turn reddish brown.
3. Now add the chilli powder, coriander powder, turmeric powder, seeded tamarind, sauf, ginger and saute till the raw smell disappears.
4. Grind this coconut into a fine powder when it cools down (It leaves oil) .
5. Add 1 cup of water to this powder and form a paste.
6. Heat oil in a bottom thick deep pan .
7. Add mustard and allow to popup.
8. Add chopped onion, Shallots, little salt, green chillies ,curry leaves and saute until onions turns translucent.
9. Now add the prawns, tomato and saute for 2 minutes.
10. Add the ground coconut paste
11. Mix well and add 1.5 cup water and salt.
12. Bring to a boil, reduce the flame and cover with a lid and cook until the prawns is cooked .(It will get orange lines once it is cooked.), gravy is semi-thick and the gravy leaves oil.(if any point of time you feel the water is less add 1/2 cup of water)
13. Now the curry is ready. Remove from flame.
14. Serve with rice or roti.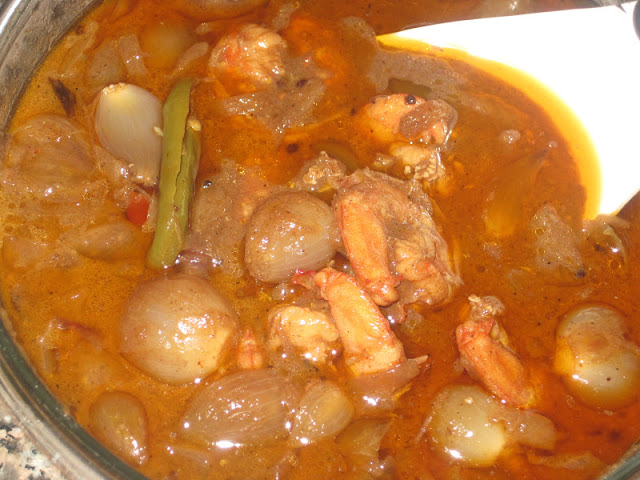 Note:-
The more slow is flame while you fry the onion, the more tastier the curry will be. And also depends how smoother is the ground coconut paste…
I have this with kappa or chappathi or rice and curd…yummmm 🙂
Few days back I made bread fruit theeyal. You can view that here