Vegetable stew is quite common food in most of the breakfast table in Kerala. Though it is known as the signature dish of Kerala christian household , it is now very common among all other communities as well..
Vegetable stew is a mildly spiced dish. A South Indian Stew (Kerala style) can be prepared with vegetables along with chicken or mutton or meat as well. And the main ingredient is coconut milk, without it the dish is incomplete. At home we use to extract coconut milk from freshly grated coconuts. But you can always use the canned coconut milk.
Ingredient wise a fish molee and stew has almost same ingredients.
Stews are best when it is served with Aappam. It also goes well with ghee rice.
I generally prepares vegetable stew on a Christmas or a Easter morning breakfast. Well this time there was a potluck breakfast few of our friends planned.
For potluck breakfast I prepared Aappam, Chickpeas cooked in coconut milk curry and vegetable stew. Dessert was gulab jamun.
Let me share the recipe of a simple vegetable stew…
You need,
Carrot – 1 cubed
Potato – 1 cubed
Green Peas – 1/4 cup (I dint have beans. You can replace/add it with 5 french beans cubed)
Onion – 1 medium sized quartered and sliced
Green chilly – 2
Ginger & garlic – 1 tbsp each finely chopped
Black peppercorns – 1/2 teaspoon ( I like the stew with more peppery flavor. So i use 2 teaspoon)
Cinnamon – 1 inch piece
Cloves – 3
Cardamom – 3
Thick coconut milk – 1 cup
Curry leaves – 10 leaves ( 2 springs)
Salt to taste
Coconut oil – 1 to 2 tbsp (You could replace with refined oil, but coconut oil gives more flavor)
Coarsely ground the cinnamon, cloves, cardamom and pepper corns. Keep aside closed
Heat oil in a sauce pan in a medium flame and add the crushed spices.
Add the onion followed by ginger, garlic, curry leaves & green chillies
Saute for a few minutes till the onion becomes translucent.
Add in vegetables and mix well.
Add 1 to 1.5 cup of water, salt and boil
Reduce the flame to medium to low flame and close with a lid and cook till tender
Add thick coconut milk and stir.
Remove from fire once the gravy is about to boil.
Serve with aappam, idiyappam , chappathi or bread.
This recipe serves 6
Notes:
I sometimes make coconut milk using the coconut milk powder.
If you are using freshly squeezed coconut milk. Use the thin milk at step 6 to replace with water.
You could add 2-3 small florets of cauliflower as well. For a healthy twist replace with brocoli
Black pepper makes the stew look darker. So you could even the black pepper corn replace with white pepper powder. 1/2 teaspoon should do for the above recipe.
Few old mobile pics 🙂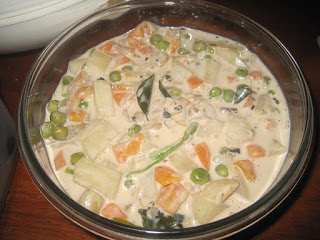 Here are the food pictures of the picnic..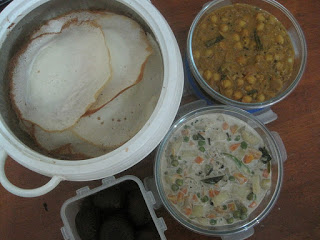 Aappam
Chickpeas in coconut milk curry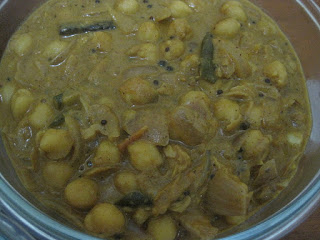 Gulab Jamun