Made this few days back 🙂
You need,
For filling
Olive oil – 1 tbsp
onion – 1 large chopped
carrots – 1 medium chopped
Frozen green peas – 1/2 cup
Frozen sweet corn – 1/2 cup
meat/lamb/chicken/soya mince – 250 gm
tomato puree – 1 big seeded and pureed
tomato ketchup – 2 tbsp
garlic – 1 clove crushed
Veg stock or water – upto 1/4 cup (if required)
bay leaf – 1
salt and freshly ground black pepper
potatoes – 3 large, peeled and chopped
butter – 2 tbsp
milk a splash
salt and pepper
For brushing over the pie
Melted better – 1/2 tbsp (optional)
You have to,
Prepare Topping
Boil the potatoes in salted water until soft(approx 20 min). Drain and mash well while hot.
Add a splash of milk and the butter.
Season with salt and pepper. Mix well to a creamy mash
Prepare Filling
Now heat oven to 180 deg cel
Heat the oil in a large pan. Add the onion and carrot and cook over a medium heat for 5 minutes until soft.
Add the minced meat mince and cook for 3 minutes to brown.
Add the garlic, tomato puree, bay leaf. Add stock if the mix is dry.
Cover and simmer for 15-20 minutes.
Add in green peas, corn, ketchup and season with salt and pepper. (if water is there, put the flame to high till it is dry)
Setting up the pie
Spoon the meat and veg mixture into an ovenproof dish.
Top with the mash. You could use a pastry bag to fill them and form peaks.
Brush with melted butter. (This is optional)
Bake for 30 minutes until peaks are golden brown.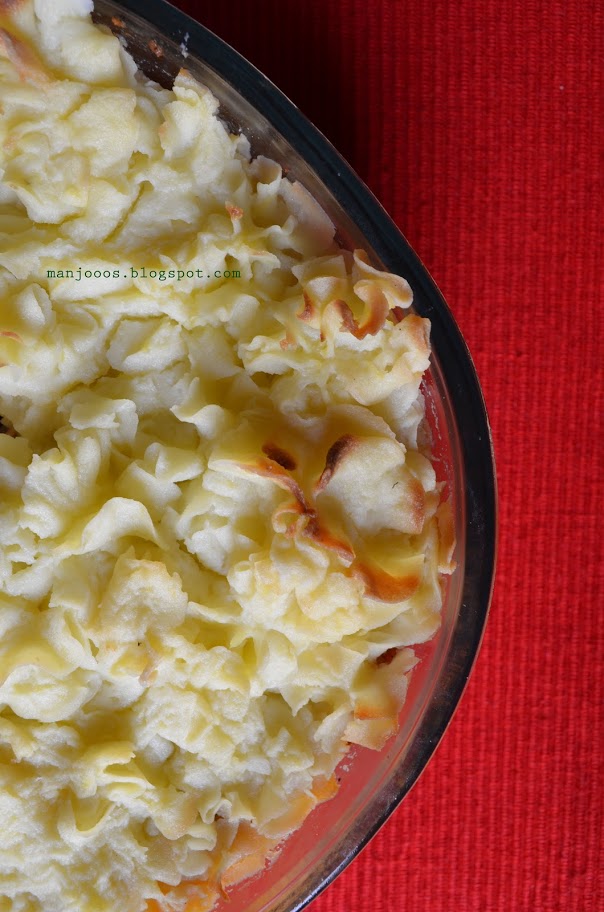 Scoop and serve with chapatti or dinner roll or eat as it is
Note: Check this recipe for see how to make soya mince
Old pics