Yummy bangalore days. Whenever we go to any Restaurant, we used order
masala papad
and/or peanut masala for starters. It is a wonderful appetizer provided you are not allergetic.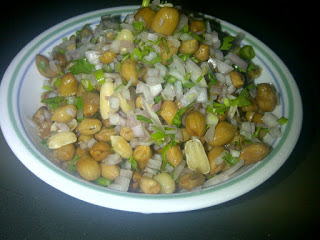 You need,
Onion – 1 small chopped finely
Corriander leaves – 1 tbsp chopped
Green chillies – 1 small slit and finely chopped
Lemon juice – 1 or 2 tsp
Good quality raw Peanuts – 2 cups
You have to,
1. Boil the peanuts for 5 to 10 minutes in salted water.
2. Drain the water and run some cold water over it. Drain
3. Add this in a bowl and onions, green chilli and chopped corriander leavers.
4. Squeeze in lemon. Toss well.
Enjoy!