Reposting…I posted this loong time back…I made this omlet recently with chopped spinach leaves.
You need,
1. Whole Eggs – 4
2. Palak/ Indian Spinach coarse paste – 1 1/4 cups
3. Pepper powder – 2 tsps (you can add more if you like it spicy)
4. Salt – to taste
5. Oil – 2 tbsps
You have to,
1. Beat eggs with palak paste, pepper powder and salt.
2. Heat oil in a non stick pan.
3. Pour eggs and cook on medium heat till set.
4. Turn over once and cook till egg is cooked.
5. Serve hot the green omelet.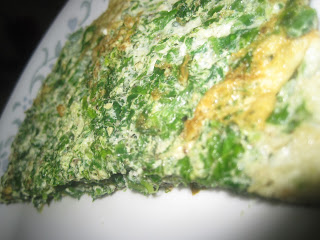 Note:-
1. Instead of whole eggs and spinach paste, you could use 6 egg white and 1 cup very finely chopped spinach leaves for the above recipe.