So many names :)…..This is the best thing to have during summer season..
Curd rice is a south Indian dish. Some people have it as main course or have it at the end of their lunch or dinner. It can be accompanied by mango or lime pickle, pappad. It is one of my favorite recipe. May be because I like curd :)…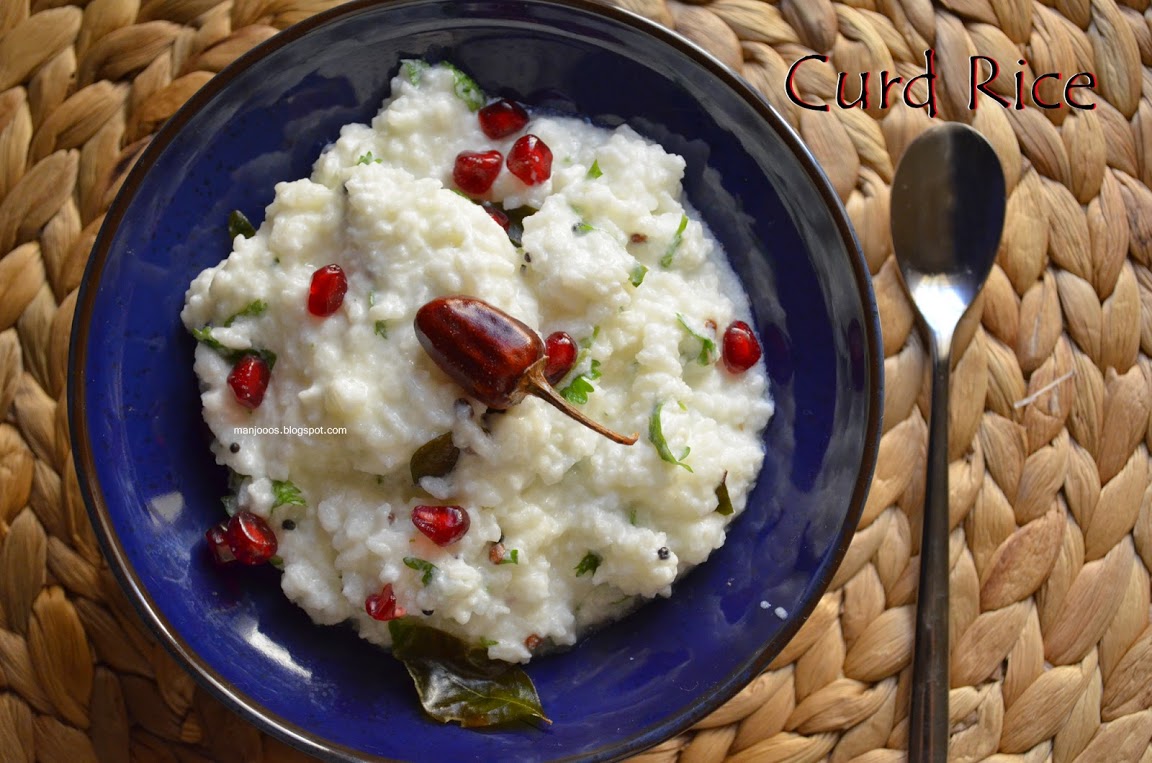 You need,
Cooked white Rice(basmati) – 2 Cup
Thick Plain yogurt or Curd(low fat or skimmed or full fat) – 3 cups
Refined Oil or Coconut oil – 2 Tbsp
Green chilies – 1 or 2 finely chopped
Urad daal – 1 tsp.
Mustard seeds – 1 tsp.
Ginger – 1 and half tsp. finely chopped/gratted Salt to taste
Finely chopped coriander leaves
Milk – 1/4 cup (optional)
Curry leaves of 1 string
You have to,
Take a large bowl which can accommodate rice and curd. Mix Rice , curd ,salt, coriander leaves in a bowl and keep aside.
In a saucepan heat oil and add urud dal after few seconds add mustard seeds
When the mustard seeds crackles add in the ginger and green chilies.
Sauté them for a minute.
Add in curry leaves and saute and remove from fire.
Before serving add this seasoning over the rice.
Note 1. It can be topped with anything. Some people add boondi on top just before serving. Some people add grapes. You could add any or all of the the below at step 1
2 tbsp of pomegranate seeds
2 tbsp of freshly grated carrots
2 tbsp of tiny cubes of cucumber
Note 2. You could add 2 tbsp finely chopped onions at step 3.
Note 3. If you think the curd is sour, then u can add milk before serving. Else it is not mandatory
Serve curd rice chill and make your tummy chill 🙂