An aroma of a dish can take you to an enjoyable trip down memory lane…
Back home our regular meal consist of more of vegetarian dishes and a fish curry or a fish fry. As a child, I was a very picky eater. Fish was my favorite dish during those days(even now). Some weekends mom prepares chicken curry. Once she prepares the aroma spreads across the whole house, I sniff and walk towards the kitchen. Mom will be stirring the large sauce pan of bubbling chicken curry with a long metal spatula. I will slowly approach her and she know very well why I am there. She takes a spoon take a half teaspoon of gravy from it and blow slowly..and pour it in her palm and ask me to taste. I was always scared to pour that hot gravy in my palm. So she always allow me to taste that way. And I lick and taste it. It will be so delicious as always. May be more better.
If it is lunch time, red boiled rice and kachiya moru or Green gram dal curry will be ready. And if it is dinner time, the chicken curry will be served with chappathi. This is the combination I like. But for my parents and bro, they will have some veg stir fries along with it.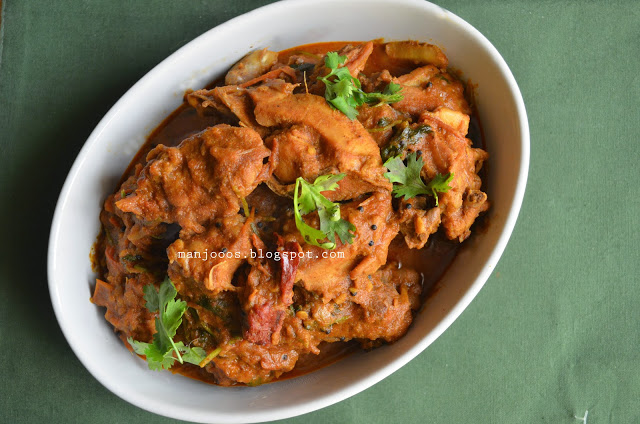 When I was staying away from home, I preferred to cook rather than buying food from a canteen or a restaurant. I always kept trying to make this chicken curry. It never had the same taste as the chicken curry my mom prepares. I used to think may be I missed some ingredient. Nah! It was all the same. I dint have the magic as my mom has. I sometimes attempted to change the cooking pan, went and searched for the vessel which mom used to cook the chicken curry. But the result was same.
But then it took me ages to realize it was not just the ingredients, for the magic you need some patience.
You need,
Chicken – 1 kg, cleaned washed and cut into small chunks
Oil – 3 tbsp (Preferably coconut oil)
Mustard seeds – 1 tsp
Dry red chili – 2
Onion – 3 medium sliced
Tomato – 5 medium seeded and chopped finely
Green Chili – 3 slit
Ginger-Garlic paste/coarsely grounded- 3 tbsp
Red chili powder – 1 heap full tbsp
Coriander Powder – 3 heap full tbsp
Turmeric – 1/2 tsp
Home made garam masala powder (refer below)
Salt to taste
Curry leaves of 2 spring
Take the washed cleaned drained chicken cubes in a big bowl
Add red chili powder, coriander powder and turmeric and marinate well and keep aside.
Heat oil in a thick bottom pan in medium flame
Add mustard seeds and allow to pop up.
Add dry red chilies, curry leaves and saute for 3-4 seconds
Add onions, green chilies and saute well
One onion turn translucent add ginger garlic paste and saute for a 10-15 seconds.
Add the dry spice powders (red chili powder and coriander powder) and saute well till the raw smell disappears. this will take a couple of minutes.
Now add the marinated chicken, tomato.
Once it is heated well reduce the flame to medium to low
Close the vessel with a lid and cook till it is done and oil is separated. (If it turns dry add 1/4 cup of water)
Add salt and stir well and later add garam masala
Close and cook for another 5 minutes. It is done 🙂
Homemade Garam Masala
Cardamom – 3
Cloves – 3
Black Peppercorns – 10 nos
Cinnamon – 1 inch piece stick
Sauf (Fennel seeds) – 3/4 tsp
Bay leaf – 1
You need to
Fry all of them mentioned above in a pan in medium flame without oil
Once it is cooled down to warm, grind it into to coarse or smooth powder
Keep closed till use
Notes:-
While sauting sliced onion you could add 1/2 cup of sliced shallots
With the dry spice powders, you can add 1/2 tsp crushed pepper as well
Chopped coriander leaves will also add a nice flavor
If you need more gravy, add 1/4 cup of water while cooking the chicken.
After cleaning the chicken don't leave it water. Wash and keep in a colander to drain well
Few old pics. See the color difference 🙂 …