I was leaving from my office to home in the lunch break. When my cab moved I happened to see a big branch of drumstick tree lying in the road side. I couldn't take them at that time. All the way to home only those leaves were there in my mind :). If it was India, especially Kerala these leaves might have gone to so many kitchens to get converted some nice dish..:). When I came back after the break, first I went to get few of those leaves.
I got around 4 cups of leaves after removing the stem.
I thought of following the recipe of methi aloo paratha, where I will replace methi with drumstick leaves.
For the filling you need,
Potato – 3 medium boiled and smashed
Drumstick leaves – 4 cups washed and drained
Ginger – 3 tbsp grated
Green chilli – 2 slit and chopped finely
Chat masala – 1 tsp
Coriander powder – 2 tsp
Carom seeds – 1 tsp
Salt to taste
Oil – 3 tbsp
You have to,
1. Heat oil in a pan
2. Add carom seeds after 2-3 sec, add ginger and green chilli
3. Saute for few seconds, add chat masala, coriander powder and salt saute.
4. Now add the drumstick leaves and mix well for 2-3 min.
5. Add Potato and mix well. Remove from fire
For stuffing,
1. You can make around 9 parathas with the above filling. I used 9 lemon sized wheat flour dough balls.(I knead and store wheat flour dough in the fridge 🙂 )
2. Make sure the dough size and the filling size is the same.
3. Now roll out as a small puri and keep the stuffing inside and seal the edges.

4. Roll as rotis very carefully for that it won't break the edges

5. Place on a hot griddle, roast and drizzle oil, to shallow fry the parathas both sides on medium-low heat.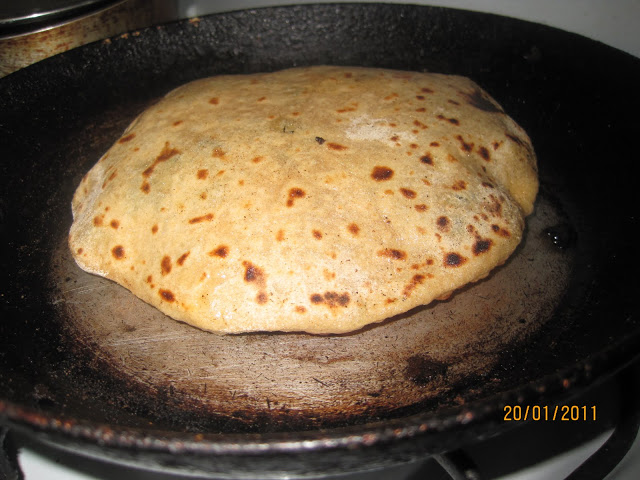 6. Serve hot