Before leaving Bangalore in 2008, I visited one of my ex colleague Sree. She has invited me for breakfast. That day she served me hot puran polis topped with generous amount ghee. I dont remember the exact count or puran polis I had. It was absolute heaven!!!
That was the first time I had hot puran polis. Puran polis are also known as holige or obbattu in Karnataka. In Kerala we call it Boli. I was not a fan of this particular sweet dish. But the hot version is absolute yum. I never got a chance to ask Sree the recipe.
When I moved to Qatar, one of my neighbor and kind friend who is from Maharashtra taught me to make the stuffing of puran poli. There was time I could never make aloo paratha. After obtaining the the skill of paratha making from my ex-PG mate Vidhi, making puran poli was very easy.
You need,
For Stuffing
Split Bengal gram (chana dal) – 1 cup
Jaggery grated – 2/3 cup
Green cardamom powder – 1/4 teaspoon
Ginger grated – 1 tbsp
For dough,
All purpose flour (maida) 1 1/4 cups
Salt a pinch
Pure ghee 1/2 cup
You have to,
For stuffing
Wash and boil chana dal in an  open pan till it is done (it should be powdered if you press it)
Drain and add grated jaggery, grated ginger , cardamom powder stirring till it dries up.
Allow to cool. Now put mixture in a flat surface and powder it with roller pin
Divide the stuffing into sixteen to twenty equal portions and roll them into balls.
For dough
Mix flour and salt in bowl
Add three tablespoons of ghee and sufficient water to make a soft dough.
Cover and keep aside for sometime.
Divide dough into sixteen to twenty equal portions and roll into balls.
Stuffing and cooking
Flatten each flour ball in your palm
Place one portion of stuffing, cover and seal the edges.
Dust it with flour and roll out in medium thickness.
Heat a tawa or pan and cook puran poli until done on both sides.
Serve with ghee or kheer or any spicy bhaji or eat as it is… 🙂
Now I try making puran polis every Diwali. And taught my mom as well… 🙂 .
Trying the sweet puran poli with some spicy bhaji was introduced to me by one of my Gujarati friend. And that was an interesting combination. 🙂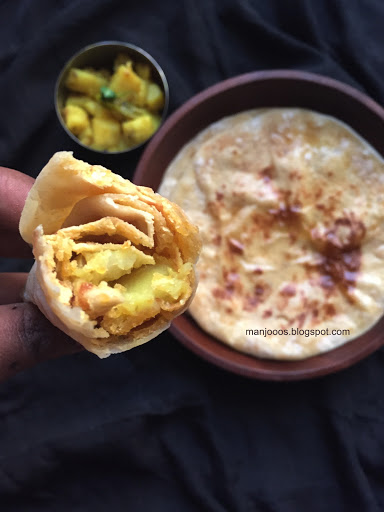 Happy Diwali!!!
Few old pics