I hate to be lazy. But at times it just creeps in. I have no reason for being lazy. There is a good number of food pictures lying in my desktop which dying to get scripted and go online.
Sometimes I really wonder what is "laziness" and why does it exist? Is that an emotion? Or a character? It could be an illness like a flu as it doesn't stay for ever.
During my laziness, I always fantasize to have a magic box, which gives me scrumptious food as and when I wish. It is a good dream!
But I hate laziness taking over me, when I am hungry. I do have few good reasons,
The food I like won't be available in a Restaurant
If at all the Food I like is available, They won't do a door delivery.
If I decide go for a take away, the Restaurant kitchen will open only after an hour
Just in case if they have door delivery, they will reach at my door step at least 2 hours late.
Most of the time, after trying first 3 options, before I try the fourth, I will start to convince myself. And one evening after some debate with my mind I decided to first eat my quick energy snack and then start making this recipe.
This is recipe is highly inspired from Chef Vineet Bhatia's "Rasoi cook book" . I have posted one of the recipe before (Click here)
Beet chips
You need
Beetroot – 1
chili powder a pinch
olive oil to drizzle
You have to
Preheat oven to 180 deg Celsius
You have to wash and skin the beetroots
Thinly slice them. (If you have a mandoline slicer, you could slice them with even thickness)
Prepare a baking tray by lining it with a baking sheet.
Arrange the beet slices without overlapping.
Sprinkle the chili powder and drizzle olive oil over..
Keep the tray in the oven and bake for 15-20 minutes.
After first 10 minutes make sure to turn the tray.
Once the slices are baked, allow to cool down..
It will be crisp and yum..
After baking the beet slices will shrink.
Taste it, you get tempted eat more.. But don't forget to reserve the chips for garnish…
Note: Keep an eye in the oven as the temperature varies from oven to oven..
Kichdi
You need,
refined oil – 2 tbsp
unsalted butter – 1 tbsp + 1 tbsp
cumin seeds – 1 tbsp
garlic , ginger , green chili – finely chopped, 1 tbsp each
red onion – 1 medium, finely chopped
turmeric – 1 teaspoon
basmati rice – 150 gm, washed and drained
hot water – 600 ml
yogurt – 3 tbsp. whisked
coriander leaves – 1 tbsp finely chopped
salt to taste
You have to,
Heat oil & 1 tbsp butter in a large sauce pan in medium flame
Add cumin. Once it splutter add garlic and saute.
After few seconds and add ginger and onion .
Once the onion start turning translucent add turmeric and rice
Fry for approx 2 minutes and add the hot water
Allow to boil and then reduce the flame
Once the rice is 3/4th done add in curd and salt.
Continue cooking and finish off by adding butter and coriander leaves
Herb chutney
You need,
fresh mint leaves – 1/4 cup, cleaned and washed
fresh coriander leaves – 1 cup, cleaned and washed
green chili – 1
garlic – a small clove (1/4 tsp chopped)
thick yogurt – 2 tbsp
lemon juice – 1 tsp
sugar a pinch
mayonnaise – 1/2 tsp (I used a store bought egg less mayonnaise)
a pinch salt
You have to,
Grind all the ingredients to a smooth paste
Add small amount of water only if required
Transfer it to a bowl and add mayonnaise.
Whisk well and cover and refrigerate till ready to serve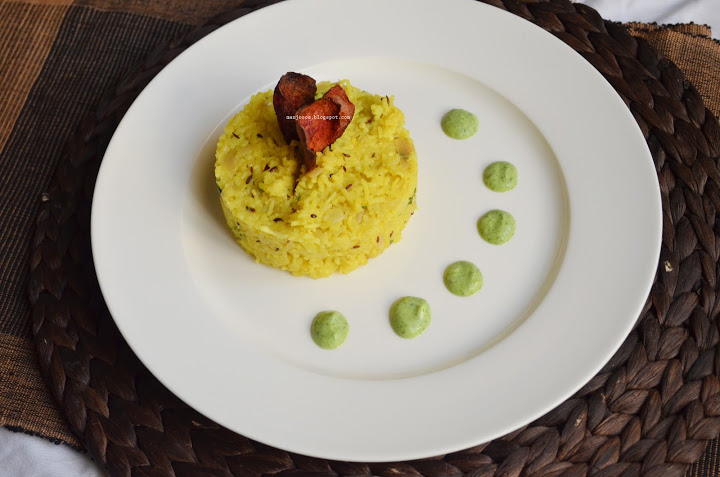 I really hope I should be able to convince myself on every busy working day evening !! Because this meal was that good!!!
Happy cooking!!!