This is one of the recipe which takes me down memory lane. Several years back our family used to have paddy cultivation. And during harvest, my mom used to prepare
Rice gruel(Kanji)
and
Chena
Chembu (Corm) udacha curry for all the workers. And once it is prepared, the big vessels will be sent to the paddy field. And my brother and me sometimes go along with the workers holding a bag which has jack fruit leaves of deep bowls. Once it is the break time all the workers will be served rice gruel and this curry. And I too sit along with all of them and have rice gruel. Those are priceless memories.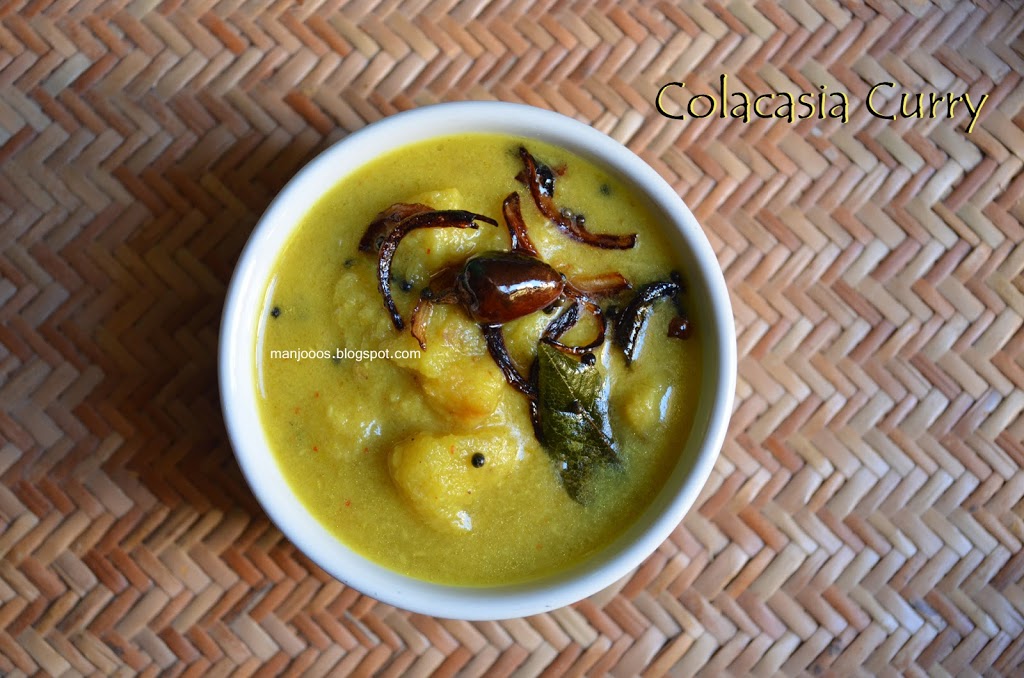 This time when I came back from my vacation I got few pieces corm from home. It was from my father's vegetable farm.
I am not a great fan of steamed or boiled colocasia roots. But I love this preparation.
You need,
Colocasia root (chembu or corm or arbi), skinned washed and cubed into medium pieces – 1 cup
turmeric – 1/8 teaspoon
asafoetida – a pinch
water – 1/2 cup
salt – to taste
For coconut paste
freshly grated coconut – 3/4 cup
green chili – 2 big
shallots – 2
garlic – 1 clove (optional)
cumin seeds – 1/2 teaspoon
turmeric – 1/8 teaspoon
dry red chili – 1 no
water – 1/3 cup
For tempering
Coconut oil – 1 teaspoon (You could replace with refined oil. But coconut oil will enhance more flavor)
curry leaves of 1 spring
mustard seeds -1 teaspoon
dry red chilly – 2
shallot – 1, thinly sliced
You have to,
Pressure cook taro along with turmeric, asafoetida and water in medium flame for 3 whistles
Remove from flame
Grind the ingredients mentioned under "For coconut paste" and keep aside closed
Once the pressure is gone, open the lid and add salt. (At this stage if water is too less you could add upto an additional 1/4 cup). The curry should be thick
Heat this. add the coconut paste give a stir
Allow to boil and remove from flame once it starts bubbling up
For tempering, heat oil in another pan
Add mustard seeds and allow to pop
Add in broken red chilies, curry leaves and sliced shallot
Saute till the onion turns light brown.
Now pour this over the curry
I dont need any other side dish if this curry is made. This is that good. Serve with Rice or Rice gruel(Rice Porridge)
Update

On 7th Jan 2015
A secret.. I always get confused with the Malayalam names of the root vegetables…"Chena" (Yam) and "Chembu" . I always feel the name should have been inter changed…isn't that weird…lol