I got these pictures from my draft. I made this a month back.
When I saw big packets of fresh cherries in the super market, first thing which came into my mind is to make a cherry yogurt.
You need,
Fresh ripe cherries – 1 cup, washed cut into half and stoned
Sugar – 1/2 cup
Water – 1/2 cup
low fat plain yogurt – 2 cup
You have to
Strain the yogurt in a colander. leave it till we are going to use it for the recipe
Place the cherries, water and sugar in a sauce pan and bring to a boil
Let it boil 2-3 minute in slow flame.
Transfer this to a strainer to strain the syrup.
DON'T PRESS the cherries or pulp with spoon. Save this syrup. (I got an idea to something different with this syrup while straining).
Allow to both the residue and syrup to cool down well
Now transfer the yogurt to a big bowl.
Take the residue and grind well.
Add this to the yogurt bowl
whisk with a fork or whisker till it is blended well. (Dont over do)
Transfer this to a tray and freeze this mixture for at least 4 hours
Remove from freezer.
Blend the whole yogurt mixture once
Transfer this again to the tray and freeze it over night or till it is firm
Scoop and enjoy!!!!!
Now what we are going to do with the syrup???
Bottle it!!! And chill it!!!..
And then try any of the below
Cherry Lemon juice
When you make a lemon juice, just add 1 or 2 tbsp of cherry concentrate to the lemon juice. As it is already sweetened, check sweet level of lemon juice
Top with soaked chilla seeds
Enjoy your drink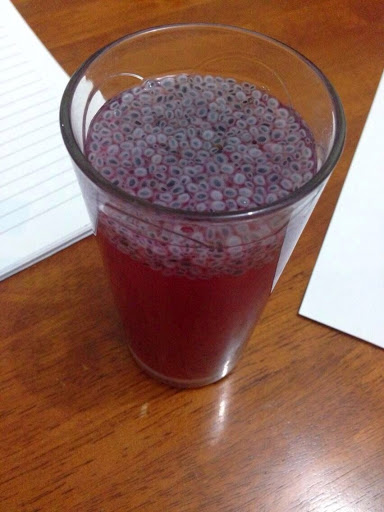 Cherry cream soda
Take 2-3 tbsp of cherry syrup in a tall glass
Add 1 tbsp of cream
Fill the glass with soda (sparkling water)
Add whipping cream on top (I used the ready made one)
Drizzle some more syrup on top.
You are done