I generally like sandwiches. And i do prefer vegetable sandwich. When ever i visit a cafe, i try to vegetarian version available and see what all fillings go inside.
I started liking this sandwich exactly 10 years back. I was working in Bangalore and there was a shop called "Munch n Sip" in MG Road (Thanks to my friend Shalz for helping me to recollect the Cafe name).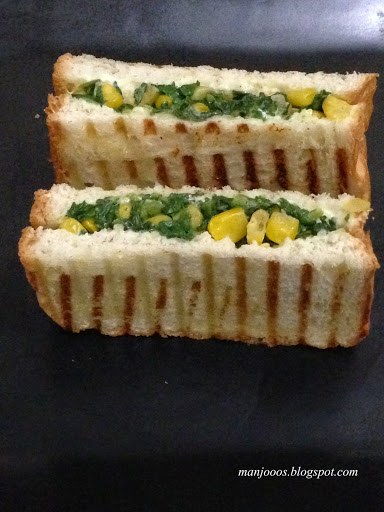 You need,
Fresh spinach – 1 bunch
Boiled/frozen sweet corn – 1 cup
Garlic (grated) – 1 clove
Green chili – 1 finely chopped
Pepper powder – 1 tsp
Cheddar or Processed cheese spread or slices as required
Brown or white  bread slices – 10
Refined oil – 1 tbsp
Butter for toasting/grilling
You have to
To blanch the spinach 
Wash and clean the spinach leaves. Discard stem
Add salt and boil water (at least 6 cups) in a big sauce pan
Switch off the flame and add the spinach leaves
Close the sauce pan with lid an leave it for 2-3 minutes
Now Strain the leaves and add this leaves in ice cold water and leave it for a while. (Else you can put the leaves in a bowl of normal temperature and keep inside the chiller)
Strain the leaves well (You can squeeze gently with your hands)
Chop it finely and keep aside
To prepare filling
Heat a pan in medium flame and add oil
Add in garlic and green chili.
Saute for 10 secs.
Add spinach and corn, cook on high flame till water evaporates.
Add salt(spinach is already salted. so add accordingly) and pepper powder.
Mix well and remove from flame
Assembling the sandwich
You could make approx 5 sandwiches with the above quantity
Divide the filling
Now take a bread slice, spread cheese on one or both  slices. 1/4 tsp or less on slice or bread.
(If you are using cheese slice one in a sandwich is good)
Add a portion of filling on a slice of bread and close it with the another slice.
Grilling the sandwich
Apply some butter on both surface of the sandwich and grill it, till the sandwich turns golden brown.
Slice and serve hot
Yumm….