Blueberries and dark chocolates are good anti oxidants. Few days back I have tried
chocolate covered strawberries
. So thought of trying the same using blueberries. I had few berries and chocolates in my fridge.
What you need
1. Blueberries – 1/2 cup
2. Chocolate – 1/2 cup (I used ilk chocolate. But dark chocolate gives it a healthy twist
3. Coconut oil – 1/4 tsp or less

You have to,
1. Wash and pat dry the blueberries with paper towel.
2. In a double boiler melt chocolate and coconut oil till it is super smooth and shiny
3. Remove from heat and keep aside till it is warm to room temperature
4. Dip the berries into the chocolate to coat and then place them on a baking sheet.
5. Do this in several batches and leave space while placing them on the baking sheet
6. Once done transfer them to refrigerator for atleast 10 minutes
ItzYumm!!!!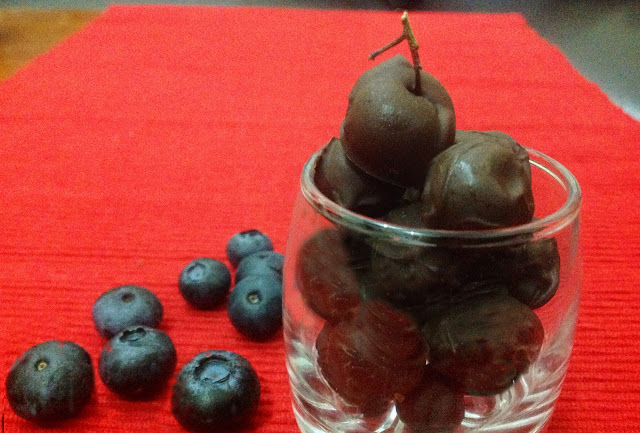 Notes:-
1. Water is chocolate's enemy. So make sure it is well dried before dipping them in chocolate
2. I never thought of adding coconut oil till I read Janel Rudolph's article