This is a recipe which takes me down the memory lane. This is a delicious snack which my mom used to prepare during school days. Most of the days when I am back from school, I get to eat this. Once in a while she prepares this for breakfast and that day I take this in my lunch box.
This crepe recipe is much easier than you think and delicious as well…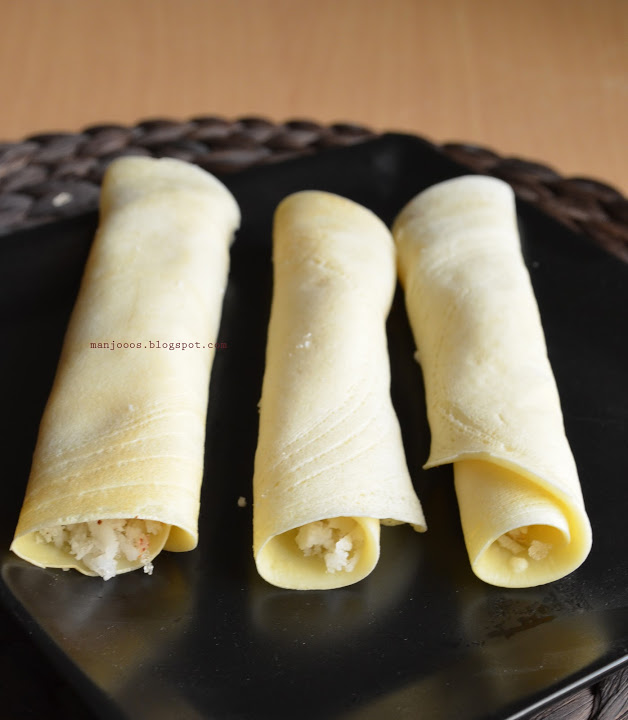 For Crepe you need,
All purpose flour – 1/2 cup
Egg – 1 no, lightly beaten
Salt a tiny pinch
Water as required (I used 1/2 cup plus 2 tbsp.)
Freshly grated coconut- 1/2 to 3/4 cup
Sugar – 1 to 2 tbsp
Cardamom – 1 crushed
You have to
Take a bowl, add the ingredients for the pancake.
Mix well without forming any lumps to form a thin batter.
Mix the ingredients for the filling in a separate bowl and keep aside
Heat a non-stick pan on medium flame.
Add a ladle of batter and spread it circularly to form a thin crepe
Once it cooked it will leave sides. flip it and cook the other side.
Remove from pan. Repeat the same with the remaining batter.
Take each pan cake and keep a portion of the filling and roll it form a cylinder.
Do the same with the rest of the pancakes.
You can prepare around 3 to 4 pancakes with the above measurement
Serve hot or warm.
Note: You could drizzle honey over the rolled pancakes before serving
Few old pics