I made phirni for our Food Stall on our Association's Cricket Day!!
This is the 2nd time we are conducting Food Stall. Last time I made
parippu vada
and
chicken sandwich
. This time I made
samosa
, phirni, chapatti and
paneer butter masala
.
I know it won't reach near the phirni which mumtazji (my neighbour) makes…my version is simpler as i am using the super maid, Milkmaid 🙂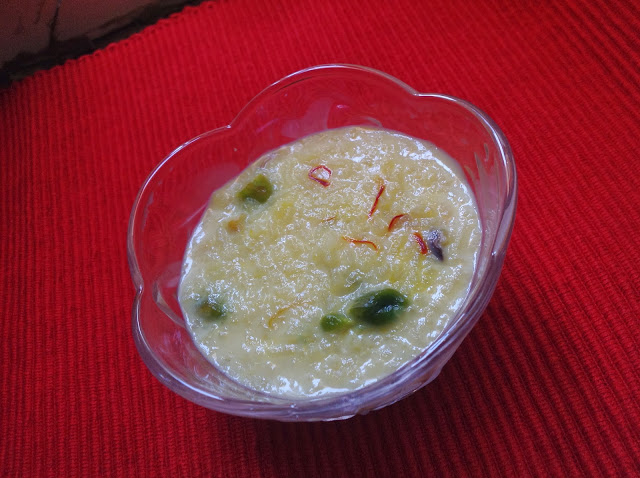 You need,
1. Sweetened Condensed Milk – 1 tin
2. Milk – 1 lit + 1/4 cup
3. Basmati Rice – 1/4 cup
4. Saffron – 8-10 strands 🙂
5. Unsalted pistachios, shelled blanched skinned and chopped – 1/4 cup
You have to,
1. Wash and soak rice in water for 30 min to 1 hour. Soak saffron in 1/4 cup warm milk
2. Drain water and grind to a coarse paste.
3. Boil milk in a thick bottomed pan in medium flame.
4. Add the rice paste slowly to the milk stirring constantly so that the mixture does not stick to the bottom and it won't form lumps.
5. Cook for about 10-15 min stirring constantly, add saffron soaked in milk
6. Now add condensed milk and add chopped pistachios
7. Once it is mixed well remove from fire.
8. Add to small earthenware or aluminium cups or plastic cup or bowls (8-12 servings)
10. Leave to cool and set in a refrigerator.
11. Serve garnished with chopped pistachios.
Itz Yummmyyyyyyyyyyy 🙂 🙂 🙂