Celebrating togetherness ♥!!!
I had this plan of making this cake couple of months back itself. Only reason is because, it is healthy in all ways…
I need to surprise my better half. So I woke up pretty early today…and started making this cake..
Once it was ready, i carried this heavy cake and went near him to wake him up…
After lots of "ah"s and "umm"s he opened his eyes.. he was jaw dropped seeing what was holding in my hands…
"Such a tall cake!!!" …and he was so impressed of me, because I managed to prepare this before I was going to office. (He still doesn't know what is the surprise. )
Then we cut the cake. And then…he asked "Is it a red cake??? ….It is nice..AH…oh…Isn't that watermelon" …and he smiled ♥♥♥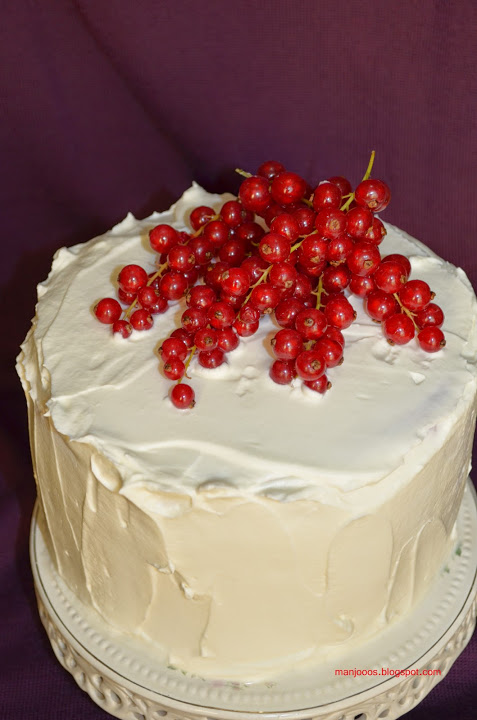 Watermelon – 1 large (seedless preferred. But you can use the normal one) .
Whipping cream – 500 ml
Honey – 1 tbsp
fresh fruit for topping (I got some red currants)
You have to
Add the honey to very chilled whipping cream in a bowl
Whip it well till fluffy and stiff
Chill this
Remove the top and bottom from the watermelon
Remove the rind of the watermelon. This will give you a cake-shaped piece of watermelon. You can carve to and look like a cylinder
Pat the outside of the watermelon dry with paper towels. This is important.
Place it on a cake stand or plate
Top the water melon with whipping cream and spread it.
Cover the sides as well.
Top it with you favorite fruit..
tad-ah!!! Isn't that simple!!!!
A healthy refreshing fruit cake 🙂